If you are a tenant and want to know which states offer the best and most tenant-friendly laws, you are in the right place.
The good news is that there are several states to choose from, each of which offer a suite of benefits to tenants that are not found in more landlord-friendly states.
In this article, I will cover some of the most tenant-friendly states and describe why each of them is a great place for tenants to rent their home. I will cover some of the legal benefits and include specific resources you can check out if you want to learn more about them.
Also, it is worth noting that some cities or regions within a states have laws that are highly favorable tenants, even if the state may not adopt such tenant friendly laws. I will cover some of those as well.
Ok, let's get into it!
The information contained in this post is for informational purposes only.  It is not legal advice.  You should seek the advice of a qualified legal professional before making any decisions relating to the topics covered by this article.
We may earn commissions from products and services that are purchased or recommended through our website as part of our affiliate partnerships. As an Amazon affiliate, we may earn from qualifying purchases.
What Makes a Tenant-Friendly State?
When evaluating whether your state is tenant-friendly, you need to look at whether the state gives tenants valuable rights or (on the flip side) restricts landlords from abusive practices.
Here are some of the most common factors used in determining whether a state is tenant friendly.
Rent Control State Laws
One of the most important things to a tenant is how much rent they need to pay. So it makes sense that a state that has rent control laws is going to rank highly on tenant-friendliness.
So which states have rent control laws? According to the National Multifamily Housing Council, only Oregon and Washington, D.C. have rent control laws governing the entire state or region. Source.
However, with the passage of the Tenant Protection Act in California in 2019, it appears that California is also among that number. It imposes caps on rent increases statewide. You can learn more about this in my article on the topic here.
A number of states have cities and jurisdictions within the state that have rent control laws, even if they don't have statewide rent control laws. These include the following:
New York
New Jersey
Maryland
Unfortunately, the vast majority of states (37) actually prohibit rent control laws, so if rent control is something that is important to you, you will really need to focus your efforts on the handful of states that offer it.
Repair and Maintenance Policies
Another area that is important to tenants is the legal landscape around repairs, maintenance and the like.
If a state imposes more repair obligations on the landlord, then that is obviously advantageous for the tenant. Things like who is responsible under law for fixing common issues like plumbing, heating, and mold all can factor into this.
In addition, states may have different policies around self-help remedies for tenants. Some states and localities allow you to pay for repairs yourself and then deduct the amount from your rent. For example, NYC allows this in certain cases when the landlord is unresponsive to significant repair requests. Source.
Other tenant-friendly remedies may include withholding rent until repairs are made or even abandoning the rental when the needed repair is so serious that it impacts livability.
Some states even require landlords to find alternative housing for the tenant while serious repairs are being made (California is a great example).
Unfortunately, each state and locality has differing laws on this, so you will need to familiarize yourself with applicable laws in the jurisdiction you are considering.
For your convenience, here's our 50 state reference table (including D.C.) that will link you to the official landlord tenant laws of your state.
If you prefer to have a lawyer assist you, I would try JustAnswer. They boast access to thousands of highly-rated, verified real estate lawyers whom you can connect with via their unlimited chat service.
By clicking the banner below, you can get a one week trial membership for only $5, which you can cancel at any time.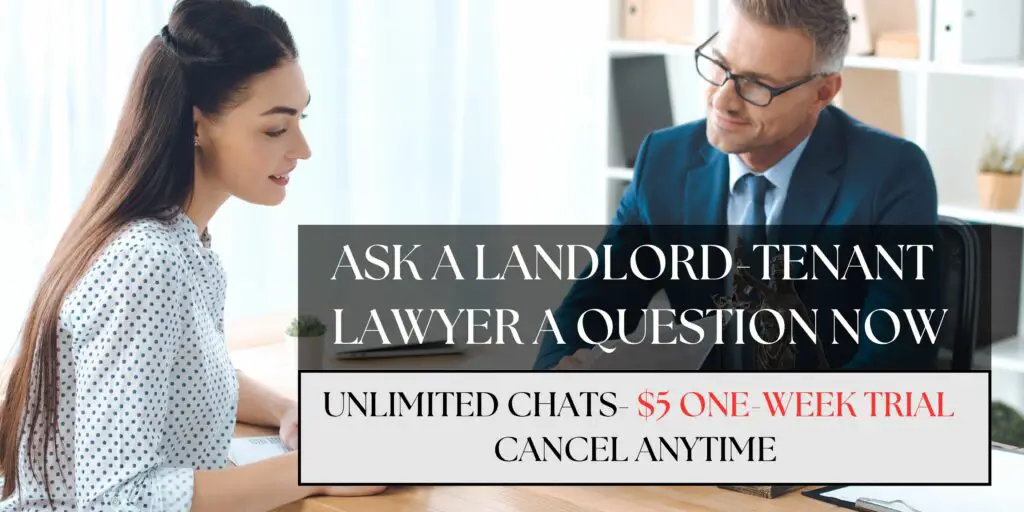 Eviction and Lease Termination Laws
Evictions laws vary by state and some are definitely more tenant friendly than others. So you will need to review your state and local laws around when a landlord can evict a tenant, the notices and processes they need to follow and what a landlord can do to enforce the eviction after obtaining a judgment.
In addition, some states and jurisdictions limit when a landlord can terminate the lease. In some cases, a landlord can only terminate the lease for good cause and must renew your lease when it expires unless you have violated the lease in some way.
Again, California is a great example of this. The Tenant Protection Act prohibits lease termination except for good cause.
Of course, these types of laws are rare and you will need to hunt around for places that offer this type of protection.
Antidiscrimination Laws
While there is federal law (the Fair Housing Act) that protects against unlawful discrimination in housing (including in rental arrangements), some states offer additional protections.
This may include anti-discrimination laws on the basis of less common factors such as age (most states do not have this), source of income and the like.
Top Tenant-Friendly States
Researching the most tenant-friendly places can be rather time-consuming. That's why we've compiled a list of states with the best laws and guidelines for renters.
Vermont
Many consider Vermont the most tenant-friendly state in the United States. The comprehensive tenant protection laws in place attract many renters every year.
Here are some of the highlights on why Vermont is considered tenant-friendly.
They have generous repair and maintenance policies. They allow tenants to invoke the repair and deduct remedy. They also have the ability to withhold rent until needed repairs are made.
In addition, to initiate an eviction, landlords must provide a 14 day notice (which is much longer than the standard 3 day pay or quit notice in many other states). Moreover, the eviction process in Vermont can stretch over many months, which is obviously better for tenants.
Oregon
Oregon is the first state to order a state-wide rent control policy. So they are one of the top choice if rent control is high in your priority list.
If you're a tenant in Oregon, your landlord cannot raise your rent by more than 7% plus inflation. On top of the rent raise ceiling, the law also dictates a 30-day notice period before a rent raise.
In the event of non-payment, tenants are given two days' notice to vacate the premises, with a four-day grace period from the missed deadline.
California
While you might consider California costly, the state has one of the most comprehensive tenant protection laws. They boast strong rent control provisions under the Tenant Protection Act (which I have already mentioned).
They also have robust policies designed to protect tenants in the areas of repairs and maintenance, "just cause" termination, repair and deduct policies and much more.
Not only that, they require landlord provide at least 24 hours notice before entering the premises and have other tenant-friendly provisions around the rental arrangement.
In my view, when you take all of these factors together, California offers a great package of rights for tenants that is hard to beat. Of course, you still have to contend with high costs of living in general, but that's the trade-off.
New York
New York has some very generous tenant protection laws in place, including caps on security deposits, and tenant friendly eviction processes.
On top of that, New York City has even more protections in place for tenants, including rent control in some areas as well as high standards for repairs and maintenance.
They include very short time frames for making critical repairs.
Related Reading: To learn more about rent increase laws in NYC, check out my article on the topic below.
How Much Can a Landlord Raise Rents in NYC?
New Jersey
New Jersey is yet another excellent example of a tenant-friendly state. While they do not have state-wide rent control laws, they permit their local jurisdictions to do so.
Over 100 municipalities in the state have passed laws limiting the amount and frequency of rent raise landlords can do. Plus, landlord-tenant codes don't require additional fees for late rent.
If tenants experience hazardous conditions threatening their safety, New Jersey laws allow renters to withhold the rent. The law permits this right until the issue is resolved.
Washington D.C.
While not technically a state, our nation's capital also has very tenant-friendly laws.  
Landlord must provide at least 48 hours notice before entering the premises and they must give at least 30 days notice before asking a tenant to move out, even if the tenants are engaged in illegal activities.
In addition to having favorable eviction processes (which can last up to 8 months or so), they also have some unique features – the most notable, in my view, is the tenant's "right of first refusal."
This basically allows a tenant to buy the property from the landlord if they are offering it up for sale before they can sell it to someone else. So if a landlord has a purchase contract with a seller, they must go to the tenant before they close on the transaction and allow them to buy it at the same price. If the tenant passes, then the transaction can go through.
Final Thoughts
So there you have it – detailed look at the most tenant friendly states and some of the key features of why those states have that title. Hope this has been helpful and happy renting!