Are worried that your landlord will just barge into your rental without giving you any notice? It's a legitimate concern, especially if it's happened before (or if your landlord just seems particularly nosy or creepy).
In this article, I am going to answer the question of how much notice a landlord must give before entering your rental and explain some of the factors that go into the analysis.
As you can imagine two of the biggest factors include what your lease says about the issue and state and local laws relating to the topic.
For that reason, I will cover laws in some of the largest states (California, New York and Texas) that discuss notice requirements prior to entry, so you can get a sense of how the largest jurisdictions address this issue.
If you have don't have the time to read through it all, here's a short answer to the question:
As a general matter, landlords must provide at least 24 hours notice before entry (except in emergencies and other urgent scenarios), although exact timing requirements may vary depending on lease terms and applicable law. For example, some states require 2 days notice or may be more vague and require "reasonable" notice.
Ok, we've got a lot to cover, so let's get into it.
The information contained in this post is for informational purposes only.  It is not legal advice.  You should seek the advice of a qualified legal professional before making any decisions relating to the topics covered by this article.
We may earn commissions from products and services that are purchased or recommended through our website as part of our affiliate partnerships. As an Amazon affiliate, we may earn from qualifying purchases.
What Does Your Lease Say?
The first place you need to look to evaluate how much notice your landlord must give your before entering your rental is your lease agreement.
Many leases will allow a landlord (or their representative) to enter the premises upon reasonable notification (and may even specify a particular time period) and during reasonable hours.
But landlords aren't allowed to enter for any reason, even if they give proper notice.
Your lease will likely spell out the reasons that a landlord may enter, which typically include (i) periodic inspections,(ii) making requested repairs; (iii) supplying necessary or agreed upon services; (iv) placing a "for sale" or "for rent sign"; and (v) showing the property to prospective buyers or prospective tenants.
In certain cases, the landlord may enter the premises without adequate notice where there is an emergency, such as fire or flooding or if the landlord suspects that the premises has been vacated, abandoned or surrendered by the tenant.
In my lease, it states under the "Notice" section that all notices shall be in accordance with my state's landlord tenants laws and requires that they be in writing, provided by US mail or hand delivery.
Now your lease may not have all of these provisions or may have different ones, so make sure you read it carefully to fully understand what it contains.
Now if you don't have a lease or your lease is silent on this issue, you will need to look to applicable laws in your jurisdiction, so let's turn to that. In fact, even if you have a lease, it makes sense to understand the laws that apply, since they will likely supersede a lease that conflicts with those laws.
What Are the Legal Principles Governing Landlord Entry?
There is a legal principle called the right to quiet enjoyment that is implied in all rental arrangements. In simple terms, it means tenants have the right to enjoy their property without undue harassment or interference by the landlord.
A classic example of this is the right to not have your landlord barge into your home unannounced.
Of course, there are other legal principles that may come into play, depending on how egregious your landlord's conduct is. For example, if they are stalking you, and violating your rights by entering your place without your consent and while you are not home, that may rise to the level of criminal conduct.
But in most cases, the right to quiet enjoyment is the key principle at issue.
Now, as I mentioned, your right to being undisturbed by your landlord is not absolute. They may enter your property to perform certain tasks, such as inspections, repairs and the like.
Each states deals with these scenarios a bit differently. Let's explore how some of the largest states (New York, California and Texas) deal with this issue.
New York
Under New York law, tenants have the right to privacy within their apartments, so a landlord may not enter without good reason and proper notice.
For example, a landlord may enter a tenant's dwelling with reasonable prior notice, and at a reasonable time, and with the tenant's consent, either to provide routine or agreed upon repairs or services, or in accordance with the lease.
If the tenant unreasonably withholds consent, the landlord may seek a court order to permit entry.
In an emergency, such as a fire or water leak, the landlord may enter the apartment without the tenant's consent or prior notice.
Source: Residential Tenants' Rights Guide – NY Attorney General
California
Landlords in California are allowed to enter the tenant's dwelling for certain purposes only and upon reasonable notice.
The California Civil Code Section 1954 clearly states the conditions when a landlord may enter the premises and how much notice must be given before the entry. The type and amount of notice required may depend on the reason for the entry, but 24 hours is presumed to be reasonable notice in absence of evidence to the contrary.
California Civil Code Section 1954 states that the landlord doesn't need to give written notice under these three conditions:
The landlord is responding to an emergency.
The tenant is present and consents to the entry at the time of entry.
The tenant abandoned or surrendered the unit.
Now under what circumstances may a landlord enter your unit with notice? The code specifies the following conditions:
Make Necessary or Agreed Upon Repairs
Supply Needed or Agreed Upon Services
Show the Premises to Prospective Buyers of Tenants
Conduct Inspections
For non-emergency reasons, like repairs, alterations or improvements, and agreed services, the landlord must provide the tenant with a written notice. It must include the date, the approximate time of entry, and the purpose of the entry.
The notice may be given by the landlord personally, or he may leave it on, near, or under the entry door of the premises. The point is for the tenant to spot it easily. A 24-hour notice is presumed reasonable, and the entry must be carried out during normal business hours.
To be presumed a reasonable notice, the notice may also be mailed six days prior to the scheduled entry.
Texas
In Texas, there is no statute governing landlord notice prior to entry, however, Texas courts have held that a landlord may not enter the rental property unless entry is authorized by the tenant.
This could be laid out in the lease, in which case, the parties should abide by what the lease requires. If the lease is silent on the issue (or there is not written lease), typical situations when a landlord may enter include making requested repairs, address emergencies, or to post certain legal notices (e.g., lien notices or eviction notices).
Source: Housing-Rights.org
To Sum Up
As you can see, laws on this issue are different across states, so it makes sense to check the state and local laws applicable to you.
For your convenience, here's our 50 state reference table (including D.C.) that will link you to the official landlord tenant laws of your state.
If you prefer to have a lawyer assist you, I would try JustAnswer. They boast access to thousands of highly-rated, verified real estate lawyers whom you can connect with via their unlimited chat service.
By clicking the banner below, you can get a one week trial membership for only $5, which you can cancel at any time.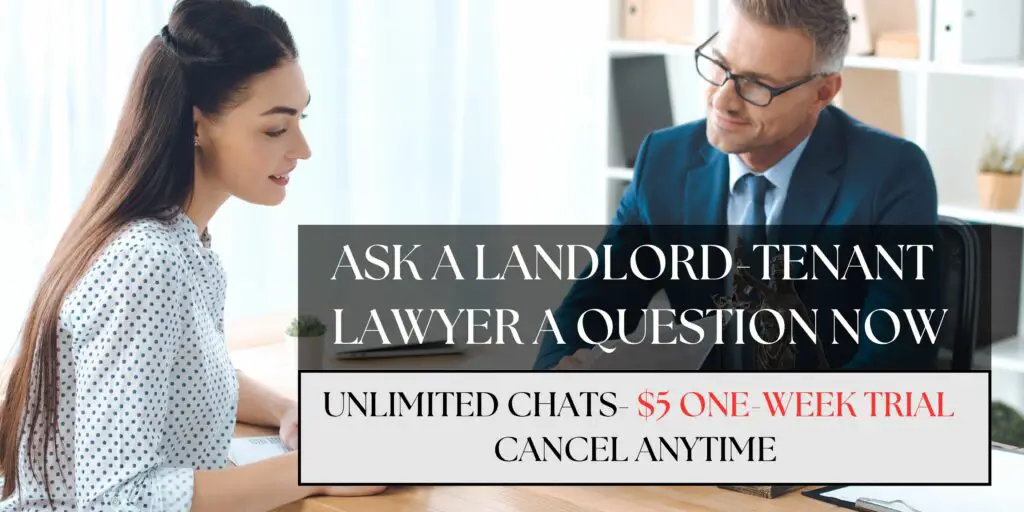 Bottom line is that you should understand your rights in this regard by reading your lease and reviewing applicable laws. Then you will be equipped to have a productive conversation with your landlord about this issue and (hopefully) resolve any pattern of unannounced visits by your landlord.