Has your landlord conducted a walkthrough of your home, but not told you about it or indicated that you don't need to be there?
This can be unsettling, especially if you are concerned that they will not properly represent or record the condition of the property during the walkthrough (and thus deduct more from the security deposit than they should).
In this article, I am going to answer the question of whether a landlord may conduct a walkthrough without you. I will also provide background on walkthroughs, the contractual and legal landscape around this specific issue, and some tips on how you can address this situation.
If you don't have the time to read through it all, here's a short answer to the question:
A landlord may conduct a walkthrough without you if the lease permits it and state and local laws have no restrictions against it. However, in most cases, a walkthrough that takes place while you are living in the rental will require prior notice and consent.
Ok, we've got a lot to cover, so let's get into it.
The information contained in this post is for informational purposes only.  It is not legal advice.  You should seek the advice of a qualified legal professional before making any decisions relating to the topics covered by this article.
We may earn commissions from products and services that are purchased or recommended through our website as part of our affiliate partnerships. As an Amazon affiliate, we may earn from qualifying purchases.
What is a Walkthrough?
A walkthrough is an inspection of the rental property that checks the overall condition of the premises.
It typically includes a review of both the interior and exterior of the dwelling. A landlord will have a checklist in most cases, which serves as a record of what was examined and its condition. This is normally broken out by room and even features within a room (walls, floors, windows, doors, lighting, fixtures, appliance, etc.).
Any notable issues are usually recorded in that checklist. In some, but not all cases, the checklist is signed by both landlord and tenant.
When Is it Conducted and What Is Its Purpose?
A walkthrough is usually conducted before or at move-in and again at or near move-out (although periodic inspections of the property during the term of the lease are not uncommon).
The purposes of the move-in inspection is to check and record the condition of the property that the landlord provided to the tenant.
The purpose of the move-out inspection is to check and record the condition of the property that the tenant returned to the landlord.
If the move out inspection shows that the tenant left the property in a materially worse condition (normal wear and tear excepted), then the landlord will usually bill the tenant for any damages to the property and deduct such costs from the security deposit.
Can a Landlord Do a Walkthrough Without You?
First, Check the Lease
If you want to figure out whether a landlord is allowed to do a walkthrough without you, the first step is to check your lease.
Most well-written leases will include a provision on move-in and move out inspections.
For example, my lease has a move in inspection clause that states that the landlord will provide a written report to the tenant within 5 days after the beginning of the lease itemizing the condition of the premises at occupancy.
It also states that the report will be deemed valid unless the tenant submits additional items to the landlord in writing within 5 days of receiving the landlord's report. It does not state that the tenant must be present at the move in inspection.
Interestingly, my move out inspection language is quite different.
It clearly states that the tenant has the right to be present at the inspection. It also requires that the landlord, within 5 days of getting tenant's intent to vacate, make a reasonable effort to advise the tenant of their right to be present at the walkthrough, which will take place within 72 hours after the tenant's departure.
Now, obviously, your lease terms may vary, but I thought it would be helpful to know what a fairly standard lease (at least in my area) looks like.
Now, if your lease does not give you an explicit right to be present at a walkthrough, but you still want to attend, don't give up hope. There may be state and local laws that require landlords to offer this option to tenants regardless of what the lease says.
What Do State and Local Laws Say?
Now state and local laws may differ wildly on this point, but there are definitely jurisdictions that require landlords to allow tenants to be present at walkthroughs.
For example, in California, if a tenant asks the landlord to inspect the premises before a tenancy ends for the purposes of identifying any defects or conditions that justifying deductions from the security deposit, they may do so and the tenant has the right to be present.
There are other rules around inspection, including the process setting up the time and providing adequate notice of the inspection. Source: California Civil Code Section 1950.5(f)
Now it is worth mentioning that even if the landlord tenant laws don't address move out inspections specifically, they may have rules around when a landlord can enter your premises while you are still living there.
So if a landlord insists on doing a walkthrough during your tenancy (and not after you've moved out), then a different set of rules may apply. After all, you have a right to privacy in your home and the landlord cannot simply walk in and perform an inspection without you being there (at least without reasonable notice).
To learn more about how much notice a landlord must give before entering, check out my article on the topic here.
Now as I mentioned at the top, different states may have different requirements on all this stuff. To find out what applies in your situation, you should conduct research into your relevant state and local laws.
For your convenience, here's our 50 state reference table (including D.C.) that will link you to the official landlord tenant laws of your state.
If you prefer to have a lawyer assist you, I would try JustAnswer. They boast access to thousands of highly-rated, verified real estate lawyers whom you can connect with via their unlimited chat service.
By clicking the banner below, you can get a one week trial membership for only $5, which you can cancel at any time.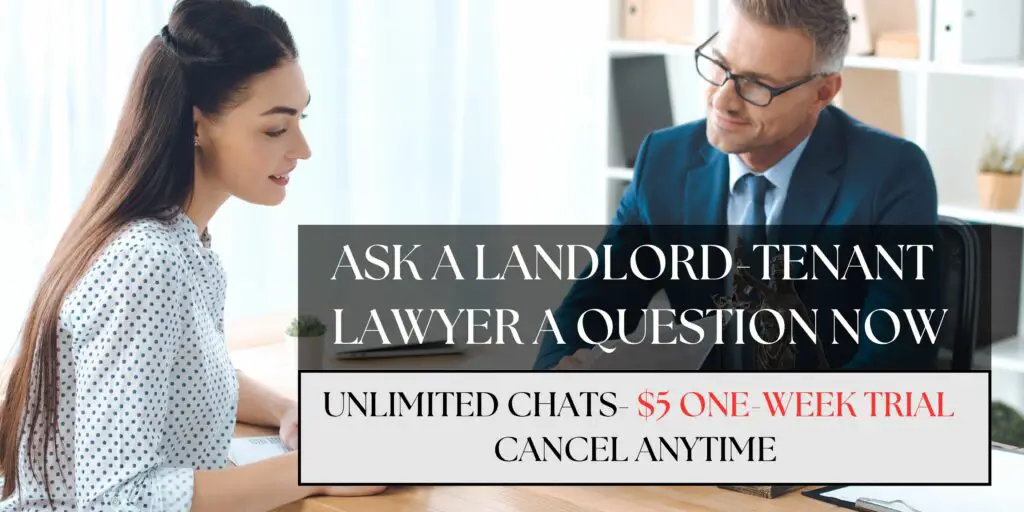 How to Protect Your Interests During an Unaccompanied Walkthrough
If you are not allowed to be present during a walkthrough (or even if you are), you should take some precautions to make sure your interests are protected.
First make sure you have a record of the property's condition before the walkthrough (especially if it's a move out inspection). You don't want there to be made up issues during an inspection where you are not present. You can prevent that by having your own video or photos of the condition of your property at around the time of the inspection.
You also want to make sure you keep your move-in inspection report. If there were pre-existing issues that the landlord never addressed, you should not be on the hook for that if it shows up on the move out inspection report.
Finally, try to minimize the number of issues that the landlord may find.
Clean the place well, fix any minor issues, replace filters and lightbulbs and generally try to present as good an image as possible. Landlords are humans too and if they get a overall good impression, they may tend to overlook minor stuff, while if the place is a mess, they may take a less generous approach when listing defects or problems.
Conclusion
So there you have it – a clear answer to whether a landlord may do a walkthrough without you and some tips on how to protect yourself in the event that they do. Hope this has been helpful and happy renting!